For the uninitiated, you may be thinking, "Wow, if I am going to take a fixed deposit (FD) home loan, does it mean I have to place a fixed deposit with the bank?". Fortunately the answer is no, you don't need to place an FD with any bank to take up this type of housing loan. A fixed deposit home loan is termed as such because its rate is linked or pegged to the lender's fixed deposit rate. In other words, the FD pegged rate is basically a type of board rate that moves in tandem with the lender's FD rate. Click here if you would like to jump to the Fixed Deposit Rates vs SIBOR charts.
A Brief History of Fixed Deposit Rates
DBS introduced floating FHR (Fixed Deposit Home Rate) back in mid 2014 to address the ever changing SIBOR pegged packages that have been championing the market for about 6 years. As DBS was the only one offering FD pegged home loan rates, it basically dominated this market segment before the other 2 local banks, OCBC and UOB, decided to get a slice of the FD pie. OCBC and UOB launched FDMR (Fixed Deposit Mortgage Rate) in February 2016 and FDPR (Fixed Deposit Property Rate) in April 2016 respectively. Following close behind, Standard Chartered Bank launched their FDR (Fixed Deposit Rate) in September 2016 and Maybank's FDMR (Fixed Deposit Mortgage Rate) started in December 2016. HSBC couldn't resist in the end and joined the competition with their TDMR (Time Deposit Mortgage Rate) in November 2017.
Along the way, banks changed the FD rates that their home loan offerings were pegged to quite often. Let's take a look at how much the banks' interest rates have increased since they were launched. Here is a snapshot, as of September 2018, with respect to the various FD rates and their rate increases (FD pegged rates with a relatively short history are not included e.g. HSBC's FD pegged interest rates).
DBS
June 2014 – 12/24 months FHR — 0.40%
Oct 2015 – 18 months FHR — 0.50%
April 2017 – 9 months FHR — 0.25%
November 2017 – 8 months FHR — 0.20%
Increase of between 0.30% - 0.575% (Click here for DBS FD rates screenshot)
UOB
April 2016 – 36 months FDPR — 0.65%
May 2017 – 15 months FDPR — 0.25%
Dec 2017 – 14 months FDPR — 0.25%
Increase of between 0.35% - 0.45% (Click here for UOB FD rates screenshot)
OCBC
February 2016 – 36 months FDMR — 0.65%
July 2017 – 15 months FDMR — 0.25%
Increase of around 0.30% for both rates (Click here for OCBC FD rates screenshot)
Standard Chartered Bank
September 2016 – 48 months FDR — 0.50%
December 2017 – 9 months FDR — 0.30%
May 2018 – 36 months FDR — 0.72%
So far, only the 48 months FD rate has increased by 0.40% since launch (Click here for SCB FD rates screenshot)
Maybank
Dec 2016 – 36 months FDMR — 1.20%
Increase of 0.60% since launch, the highest amongst all the banks (Click here for Maybank FD rates screenshot)
Local interest rates tend to follow the US Federal Reserve Bank's (Fed) rate. However, SIBOR happily (intended as such only if you are a local mortgage lender) began its upward curve in December 2014, a year before the Fed's initial rate hike. On 1 August, 2014, the benchmark 3 months SIBOR was at 0.43% and fast forward to 1 August, 2018, the same SIBOR was at 1.63%, an increase of 1.20%.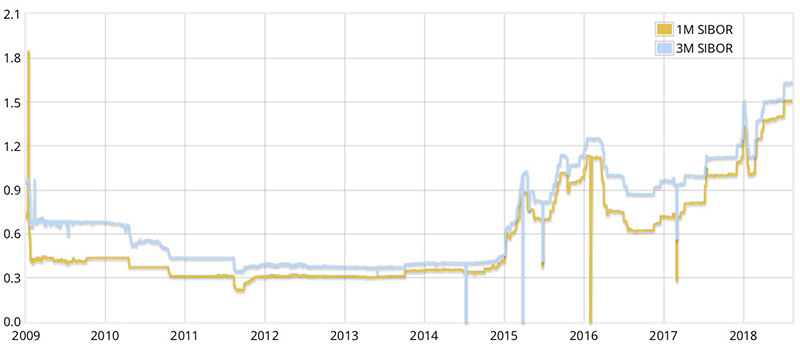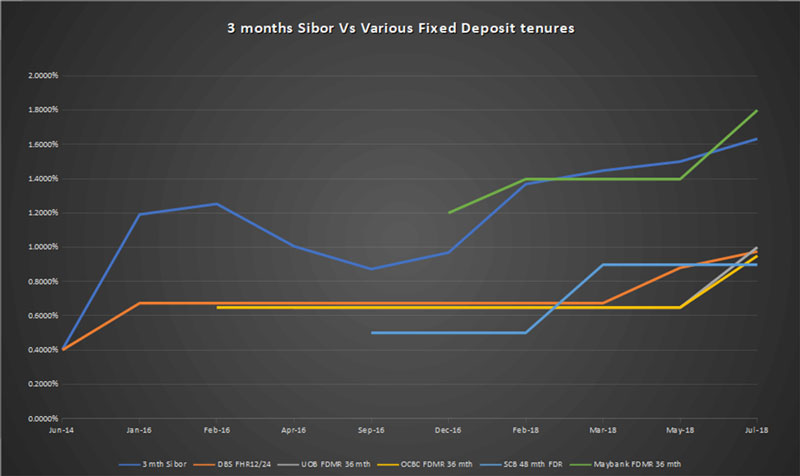 For a home loan of $500,000, 1.20% equates to a whopping $6,000 (estimated) of additional interest per year that you are contributing to the banks' coffers.
Projected Rate Hikes!
Rates are likely going to keep rising within the next 1 to 2 years with analysts predicting it to go up to 2.50% by end of 2018. For the next Fed announcement coming end September 2018, a rise of another 25 basis points (0.25%) is anticipated, causing further tremors in our local mortgage rates. Update 27 September 2018: The Fed has increased interest rate by 0.25% as expected.
It is hard to say whether FD rates are better compared to SIBOR as this depends on the bank, time frame as well as expected rate hikes locally. When things are unclear and rates have yet to move, it's easy to just let things be and not do anything. However, when rates increase, you will not be able to lock in a good rate any more. Do get in touch with us before this happens. Just use our Home Loan DIY or drop us an enquiry below. We are here to give you expert advise and make things simple for you.